our team
David Farrant's Profile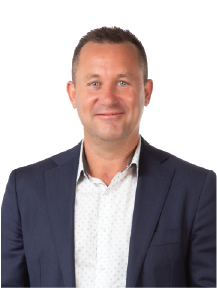 David Farrant
Property Consultant
My Testimonials
Knowledgeable, great communication, fast process
I highly recommend Dave Farrant from Provincial Real Estate. From our first meeting through to post settlement, Dave made selling our investment property easy. His appraisal was well informed and realistic, meaning we were able to move quickly through the sales process. Dave efficiently managed the Home Opens for our property around our existing tenant, exhibiting clear communication at every point in the process. We had our a competitive offer after our first home open and placed the property under offer within a week. Dave was able to negotiate with the buyer, obtaining an offer $15,000 above asking price. If you want to actually enjoy the process of selling a property, give Dave and Provincial Real Estate a call.
Rob & Grace Roper - Maida Vale
Great Work
Thank you David. You and your team did a great job on the sale of our home. You were very professional, communicated well and understood what was needed to get the sale.
Frances & Pino Gangemi – Maida Vale
Brilliant anyone looking for a great honest agent need look no further than David.
Having had our home on the market with another agent for nearly two years and getting nowhere it was time to change so I contacted David. What can I say the house was under offer within a week and it's been easy smooth sailing ever since. People asked me would we recommend David and in a heartbeat we would tell everyone yes if your looking for an agent in the hills stop pick up the phone and give him a call you will not be disappointed. He knows the area he grew up here so you will be in excellent hands.
Linda & Andrew Green – Kalamunda
Professional and prompt
We found David really pleasant to deal with. He was professional at all times and communicated with us in a timely manner. David made the whole buying process a pleasant one. Thank you David!!
Radmila Maljkovic - Maida Vale
An honest and thoughtful property agent
We first came across David when we were searching for a property. We visited many of his home opens and were very impressed by the way he dealt with potential customers, both serious buyers and the many browsers. He has always been tireless in providing accurate relevant information and often went out of his way to answer the numerous queries we had. Most importantly, he was always easily contactable and would take no longer than 5 mins to return missed calls. That's a rare quality indeed. Even though we did not end up purchasing a property he was marketing, he was certainly instrumental in helping us arrive at our final decision. It was thus a no-brainer for us to engage David to sell our property, which he successfully did at a price we were more than happy to accept.
Malcolm & Lee Lee Mah – Kalamunda
Seamless Sale!
After an initial request for a valuation and request that our home not yet be placed on the open market, David efficiently arranged a private viewing and much to our surprise our house was sold with the minimum of fuss earlier than anticipated. David was very respectful of the fact that this was our much loved family home of 49 years which we and our family were loath to let go of. He showed empathy, respect, efficiency and professionalism and for that we thank him and the Provincial team.
Carol & Bruce - Kalamunda
Great result with David
David was supportive of our marketing and our price point. He remained very professional throughout the entire process. I really enjoyed having him represent us in the sale as he was very knowledgeable, yet respectful of us as sellers and the buyers he brought to the table. There was never any hastiness with regards to his dealings, always proficient and easy to deal with.
Roz & Aldo - Helena Valley
Communication is key
David was a pleasure to work with in the selling of our home. We felt very comfortable with him and he always kept us updated with regular feedback and contacted us frequently to keep us in the loop during the financial approval stage of the buyer right up to settlement. His pleasant nature made our experience very pleasurable.
Kylie – Maida Vale
Professional, friendly and efficient
David was professional, friendly and efficient in all our dealings. Kept us informed throughout the process. Very happy with his service which we could not fault. More than happy to recommend David.
Tony - Maida Vale
Very friendly, not pushy
We dealt with David and he was really nice and friendly from the start. We had previously looked at houses with other agents that were pushy and rude so this was a great change. Highly recommend Provincial Real Estate.
Joanne & Agus - Maida Vale
Great results and great communication
We were very impressed with David and Ben. The whole process for getting on the market was smooth and they were amazing at communicating after each home open and giving constant updates. Even with the challenges from the Coronavirus they still managed to get our house sold quickly!
Joseph & Lisa - Maida Vale
Excellent experience
Ben and Dave are very relatable, both as a seller and as a buyer, which is a fantastic trait!
As a seller, we truly valued the transparency of Provincial, with their communication methods, as well as their electronic 'reach' to huge pool of buyers.
Throughout the selling process Ben and David were positive and encouraging. They made the process very easy and their team are also be commended - very organised, structured and easy to work with.
We highly recommend these agents if you are planning to sell your home!
Michael & Laura - Kalamunda
Very Good experience
David made our experience pleasant with purchasing our new home. Knowledgeable, friendly and helpful.
Ryan & Deidre - Kalamunda
The hardest working agents I've ever known
After trying to sell my home for almost 3 years with other agencies and zero offers, a friend recommended Ben who had sold several properties for her and her family over the years. She described him as honest, caring and hardworking. Ben brought his associate Dave to our first meeting and they both indeed shared those qualities and throughout the process displayed quiet strength and integrity. They worked extremely hard from that first meeting and I was presented with two offers within months. They continued with home opens, regular contact and property reports until the best offer became unconditional. They were very sensitive to our vulnerability- a widow raising a teenager- and showed us support and compassion. I would thoroughly recommend Ben and Dave and Provincial Real Estate.
Julie - Roleystone
House Sale Guided By Experts
Ben who is the Principal, has excellent communication skills and a very good knowledge of the market. He priced the house realistically.

Throughout the process we were kept up to date by phone and weekly with updates by Ben and David. They both came across as empathetic, realistic and trustworthy.

Would I ask Provincial to sell a house? Yes unreservedly and I have no hesitation in recommending Provincial, Ben Ciocca and his team.
John & Janet - Gooseberry Hill
David Farrant
David Farrant was very friendly, genuine and efficient throughout our entire house buying process. He never made us feel rushed, stayed in touch with regular updates and couldn't have been more helpful.

He was a pleasure to deal with and I wouldn't hesitate to recommend him as an agent to other house hunters.
Emma & Nesan - Gooseberry Hill